RECENTLY MANDATED SB 402
Electronic Submission of
North Carolina Lobbyist Expense Reports
DigaSign has been providing integrated, electronically submitted Lobbyist expense reports to the North Carolina Secretary of State since 2007.
Experience Counts!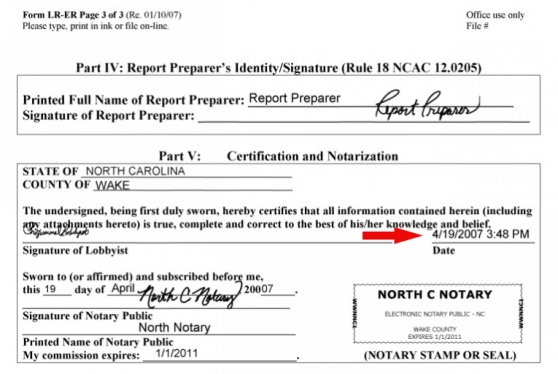 Submit monthly reports in a timely manner without the hassle of follow-up paper submissions.
---
Wizard guided and easy to use

Allows lobbyist expense reports to be created, signed notarized and submitted completely electronically with no paper generated so there are no documents to mail and store.

Allows reports to be prepared and/or modified before being signed

Dates and time stamps all signing and notarization activities.

Meets and exceeds UETA and ESIGN requirements.
---
DigaSign's saves you time and money and makes the reporting process much easier!



$150 one time setup fee per Notary User which includes USB basic signature pad*


* pad upgrades for fingerprint capture or backlit screen are available



$120 annual fee per Lobbyist**
$120 annual fee per Principal**


** unlimited report submissions



DigaSign is your solution for becoming compliant with
SB 402 Session law 2013-360.
---
How Does DigaSign Work?
The lobbyist expense report is generated through DigaSign where users are guided to each field to enter the information needed for the monthly or quarterly lobbyist expense report.
The lobbyist, report preparer or principal who need to sign off on the expense report would personally appear before the DigaSign notary and sign their name on the signature pad - just like it was a piece of paper!
The signer's signature and the notarial coordinates and notary seal and signature are automatically placed in the correct location.
To Order Call 940-553-4585 Press 2